Original Article on Chicago Tribune
HOUSTON — For sheer emotion and spectacle, it should rank among the most gripping business-related trials in memory.
Opening arguments are scheduled to begin today in the prosecution of former Enron Corp. executives Kenneth Lay and Jeffrey Skilling, a day after a jury was seated.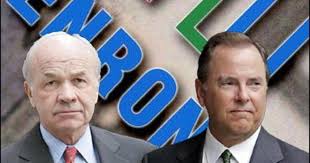 Lay and Skilling, who were once celebrated in Houston and praised on Wall Street, are seeking to have their names cleared from the bankruptcy of an energy trading company that came to symbolize the greed and alleged dishonesty of an economic boom gone awry.
Enron investors and many of its 31,000 former employees are seeking retribution for money and pensions lost when the company's stock crashed in the fall of 2001 amid accusations of disguised loans, hidden debts, and phony profits.
"Enron is the last of the great scandals to go to trial," said Charles M. Elson, director of the John L. Weinberg Center for Corporate Governance at the University of Delaware. "It's basically the final chapter of the story of corporate scandals from the boom of the late-1990s."
In a process that took much of the day at Bob Casey US Court House in downtown Houston, a jury of eight women and four men was selected to hear a trial that US District Judge Sim Lake said should take less than four months.
Lake emphasized to potential jurors that the trial was a legal proceeding and not an opportunity to redress the losses suffered by former Enron employees.
At the same time, he disregarded arguments by the defendants' lawyers that there had been too much pretrial publicity to guarantee a fair hearing.
The courthouse, surrounded by television crews from across the country and a few from Europe, stands just blocks from the baseball stadium that for a short while was called Enron Field as well as the pair of silvery skyscrapers that Enron built for its headquarters.
The Enron trial, as it is called here, follows the conviction of Bernard Ebbers, the former WorldCom Inc. chairman and L. Dennis Kozlowski of Tyco International Ltd., both of whom also came to symbolize the dark side of a business boom.
Among the big name corporate executives to be recently tried on fraud charges, only Richard Scrushy, the former chief executive of HealthSouth Corp. won an acquittal.
Lay, 63, Enron's affable former chairman, and Skilling, 52, its hard-driving, intensely ambitious former president and chief executive, are charged with a variety of counts including conspiracy and fraud.
In essence, both men are charged with disguising the company's mounting debts while fabricating millions of dollars in profits as part of a "pump and dump" scheme to inflate Enron's share price and personally reap millions of dollars in stock options.
The charges against Lay are largely tied to public statements he made to Wall Street stock analysts and investors after returning to the chief executive post vacated by Skilling in August 2001 just four months before Enron filed for bankruptcy.
The charges against Skilling are more extensive — 31 counts including lying to auditors and insider trading, a testament to the unquestioned lead role he played in running a sprawling corporation that made markets for everything from gas and electricity to plastics and the weather.
According to the indictment, Lay received roughly $238 million in compensation and stock profits between 1998 and 2001.
Skilling, the government contends, took in more than $103 million. Both have pleaded not guilty.
At some point, the trial is likely to focus on whether auditors from the Chicago-based accounting firm Arthur Andersen knowingly aided Enron executives by signing off on accounting audits that hid millions of dollars in debts and fraudulently boosted the company's income.
The firm collapsed after being convicted in 2002 of obstruction of justice for allegedly destroying evidence sought by government investigators. But last year the Supreme Court struck down the decision owing to faulty jury instructions.
During the trial, some observers expect defense attorneys, especially those representing Lay, to divert blame for Enron's financial problems to Andersen and the company's outside lawyers at the Houston firm of Vinson & Elkins.
"Lay had a longstanding reputation for being very hands off, not being a detail guy," said Sean O'Shea, a New York white-collar defense attorney. "He can say that he wasn't an accountant, and that he relied on the outside auditors."

Having lost the Scrushy case, a defeat for the Justice Department in the Enron trial would likely be seen as a major blow to its efforts to prosecute corporate crime.