Original Article on The Street
Major League Soccer is poised for a breakout, and the league is determined to get a television deal to secure profitability.
NEW YORK (TheStreet) – Mark Abbott has been waiting for this moment for 20 years.
At the end of 2014, the television rights for Major League Soccer, currently held by Disney's (DIS – Get Report) ESPN, Comcast's (CMCSA – Get Report) NBC Sports Network and Univision's UniMas, will expire, affording Abbott, the league's president and its first employee, the opportunity to cement a deal that could catapult the 19-team MLS into territory it hasn't known since beginning play in 1996: profitability.
Major League Soccer's chance to negotiate a new television contract comes at a uniquely opportune time for a league that has sometimes struggled to forge a place in the consciousness of the U.S. sports fan. Yet a new television contract could change that dynamic by generating more upfront revenue to support teams operating in the red while providing wider exposure to boost ticket sales.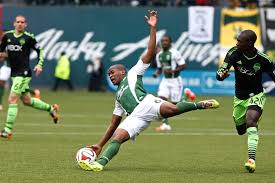 Talks for a new contract are taking place as pay-TV providers, led by Comcast and Time Warner Cable (TWC), are eager to secure sports programming. With Netflix (NFLX) drawing more subscribers than Time Warner's HBO, live sporting events have become the one bloc of programming that can still sustain traditional pay-TV packages even as fees continue to climb.
"We're very optimistic about the outcome of these discussions for us as we look at our agreement post-2014," said Abbott, who came to MLS in 1993 from the Los Angeles office of Latham & Watkins where he worked for the league's founder, Alan I. Rothenberg. "The market right now for sports rights is robust."
MLS' TV contract also happens to be expiring as only one other major professional and college sports league — the National Basketball Association in 2016 — will be negotiating a broadcast rights deal over the next seven years, through 2020. And though MLS TV ratings are low (a 220,000 average on ESPN, according to Sports Business Journal), game attendance is higher than the NBA or the National Hockey League.
The sport's heightening popularity – think youth participation — bodes well for securing a deal more than double the size of its current $30 million annual contract with ESPN and NBCSN, and in Spanish on Univision's UniMas. The 18th MLS championship game is Saturday on ESPN at 4pm New York time, pitting two small-market teams that have built lively followings, Real Salt Lake and Sporting Kansas City.
"Ratings are small but the potential for dollars is large because there isn't a lot of sport content still available," Rob Tilliss, founder of Inner Circle Sports, a sports investment banking boutique, said in a phone interview. "Ultimately, the MLS's TV contact will be driven by advertising rates. Even on low ratings points, they can still get good ad rates because it's live content."
Competition among television and online media networks has also intensified, giving MLS more potential bidders. Fox Sports 1, 21stCentury Fox's (FOXA – Get Report) ambitious effort to compete with ESPN, began airing in June, entering a field already occupied by CBS (CBS – Get Report) Sports, Time Warner's (TWX) Turner Broadcasting, Comcast's NBC Sports and a variety of other specialty networks and streaming Web sites. Making matters more interesting, Google(GOOG – Get Report) and Apple (AAPL) are considering entering the televised sports market.
Besides extracting more money for its broadcasting rights, MLS Commissioner Don Garber has emphasized the need for a consistent schedule, arguing that viewing has been hurt by the lack of a uniform days and times for nationally-televised games.
"To grow your television ratings, you have to grow your fan base first, and we've been growing our fan base," Garber said during a webcast speech on Tuesday. "We have to find a partner that gives us the right schedule, that gives us the right promotion and marketing, that is embracing us in ways that will allow us to have our programming be valuable, and be a priority both for the broadcaster and for our fans."
The ability of Abbott and Garber to bargain with Disney or Fox could be strengthened if the U.S. national team, of which half will be comprised by MLS players such as Clint Dempsey, Landon Donovan and Omar Gonzalez, does well in the World Cup in Brazil in June.
"It's important, very important, for Major League Soccer to secure another TV deal that underscores its overall growth," says David M. Carter, a principal at the Los Angeles-based Sports Business Group and Executive Director of the University of Southern California's Marshall Sports Business Institute. "Any time there are multiple bidders, there are emerging technologies and there seems to be an insatiable appetite for live entertainment that bodes well for those in the sports space."
While MLS isn't likely to command the fees afforded the NFL or MLB, a rejuvenated TV deal could strengthen its overall financial health.
Major League Soccer's unique structure requires each team owner to own a share in the costs and benefits of the entire league. By structuring MLS as something of a cooperative, Abbott has been able to mandate certain projects, such as allocating $20 million-a-year to finance youth academy player-development programs at each club (90 current MLS players began at one of the academies), and the construction of soccer-specific stadiums. At present, 15 of 19 teams play in soccer stadiums, with San Jose slated to enter its new facility in 2015.
By pooling some costs, healthier clubs can help those in need. Forbes reported last month that ten of the league's 19 teams are making a profit based on the metric of earnings before interest, taxes, depreciation and amortization. According to the Forbes report, the average MLS franchise is worth $103 million compared to $37 million in 2008.
Financially, the league may still be in start-up mode but operationally there is much to support Abbott's characterization of the MLS as a "growth stock" poised to benefit from the addition of a New York City-based team in 2015 and the possibility that English star and former MLS player David Beckham will be successful in bringing a team to Miami.
"The investments that we've made over the last 18 years, but the last 10 years in particular have provided the foundation and infrastructure for growth," he said. "We're seeing that growth already particularly over the past five years. If we continue to grow over the next 10 years as we have over the last five years, the league will be an entirely different place than it is now."
The league's central planning has helped to control costs by mandating a salary budget currently at $2.95 million. (By comparison, the NBA's 2013-14 salary cap is $58.7 million.) Exceptions to the salary limit, approved by the front office, have allowed for the signing of international stars such as Beckham, Thierry Henry and Robbie Keane, deals that help to boost attendance throughout the league.
Average game attendance for the 2013 season was 18,594, a higher total than either the NBA (17,348 for the 2011-12 season) or the NHL (17,721 for 2012-13 season). Total league attendance topped 6 million. Before its 2012 season, the MLS had never exceeded 5.5 million.
Seattle especially, but Portland, Kansas City, Houston and Columbus demonstrated that soccer, when properly marketed with a compelling product, can turn a nice profit. Seattle's average game attendance of 44,038 is more than twice the Seattle Mariners baseball team and double the L.A. Galaxy, the league's second-most popular team.
The challenge for Abbott is convincing ESPN or another network to pay more for a product whose biggest growth may lie in the future.
In an e-mailed statement, ESPN spokesman Bill Hofheimer said, "We continue to believe in soccer and in MLS as we think it is important that the US has a vibrant and growing domestic soccer league. We are looking forward to discussing the future with Soccer United Marketing and finding ways to grow the television audience for MLS." Soccer United Marketing is MLS' commercial arm.
The timing for a new television contract does appear inviting. Major League Baseball last year secured an eight-year $12.4 billion media rights contract with ESPN, Fox and Turner, a more than 50% increase over its prior deal. The NFL in 2011 agreed to a roughly $3 billion annual TV television package with CBS, Fox and NBC through the 2022 season, an increase from the league's previous $1.9 billion-a-year deal. The NBA receives a combined $930 million a year from ESPN and Time Warner's Turner Sports, according to Sports Business Journal.
When Abbott meets with television executives, he also talks about the demographics of MLS fan. Besides a base of recent immigrants from countries where soccer is king, educated, reasonably affluent, 20-and-30-somethings have emerged as active supporters of the league, devotees who like soccer as much or more than football, baseball and basketball. The under-35 fan, Abbott says, doesn't remember when MLS wasn't created or when the World Cup wasn't broadcast on national television, or when the U.S. team wasn't poised to compete at a high level. Youth participation is also sky-high.
The U.S. soccer fan may be emerging at a time when the sport's popularity looks to be accelerating. The question of Abbott is translating those trends into a handsome TV deal.
"The demographics are moving in their direction," Tilliss said. "There's all these NFL concussion stories, and the fact that unless you're tall or a gifted shooter, it's very hard to make it in the NBA, whereas the youth participation rates for soccer are way, way up. The growth rate for the MLS is pretty amazing."