Original Article on TheStreet
Aereo filed for Chapter 11 bankruptcy, which means its assets are likely for sale.
Having been shutdown by the Supreme Court in June, Aereo was left with a network of tiny antennas which functioned simultaneously to retransmit over-the-air broadcast signals to its customers. The technology allowed subscribers to bypass traditional cable operators and watch TV for as little as $8 a month. Broadcasters complained the company was in effect stealing their programming.
Aereo executives weren't immediately available to comment. But the network may be worth buying for a start-up or even one of the media companies that fought its technology and business model. In its Chapter 11 filing Thursday in U.S. Bankruptcy Court in New York the company, based in Boston, listed assets of $20.5 million and debt of $4.2 million.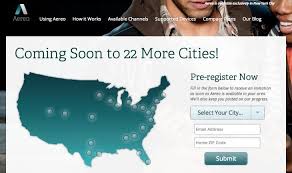 "I'm really tired of being accused of stealing anyone else's programming when we're not and I'd never be part of any service that was doing so," Diller said in an April conference call with investors. "We are no more stealing programming than the person who puts up an antenna to receive the signals he's entitled to receive. Kind of obnoxious for broadcasters to take away the signals they promised the public that they could receive directly simply because they want to squeeze every dollar they can from consumers."
At its peak, Aereo's service was only available in about a dozen U.S. markets, including New York, Atlanta and Houston.
Its engineer-turned-CEO, Chet Kanojia, created an interface that made for seamless movement between broadcast channels. The service spoke to consumer frustration with the cable-TV bundle: The requirement that to access the dozen or so channels watched by the average consumer, he or she had to pay for hundreds of channels.


The Supreme Court didn't buy Diller's argument thereby forcing IAC to write-off its investment in Aereo. In July, IAC recognized five losses totaling $66.6 million, of which it said Aereo was the largest.
The Supreme Court ruling, Aereo said in a statement, created substantial "regulatory and legal uncertainty," that in turn created challenges that were "too difficult to overcome." Following the court ruling, Aereo tried to win regulatory approval to be recognized as an online multi-channel distributor, same as any cable-TV or satellite-TV provider. The court did rule that because Aereo was "substantially similar to" a cable system, it was eligible for the same statutory licenses that pay-TV companies pay in order to carry the signals of broadcast-TV to their subscribers.
Under pressure from the same collection of media companies that opposed Aereo in court — 21st Century Fox, Disney's ABC, Comcast's NBC and CBS — the Federal Communications Commission rejected its application for licenses.
While Aereo has filed for bankruptcy, its model of distributing TV programming outside traditional cable channels is continuing to grow as more viewers, especially young folks, turn to Netflix, Google's YouTube and Amazon Prime for their entertainment.
Traditional media companies including CBS, Time Warner and Viacom are creating stand-alone digital options to appeal to consumers uninterested in pay TV. CBS has started its All Access service and Time Warner is preparing to offer HBOGO as an online subscription service next year while Viacom is readying an online service with Sony.
For one of them, or a start-up, Aereo's network might make for a nice acquisition.