Original Article on TheStreet
The number of U.S. newspaper jobs has fallen by 56% over the past 15 years, dropping to 174,000 as of September from 412,000 in January 2001, according to data compiled by the Bureau of Labor Statistics. Newspaper industry businesses fell to 7,623 last year from 9,310 in 2001, a drop of 18%.
The chief culprits are well known. Newspapers lost much of their classified advertising to free services such as Craigslist, and then lost even more ad dollars when marketers pulled back on full-page and half-page print ads for lower-cost and more easily-measured online alternatives.
Like other newspaper owners, Tronc, which officially uses a lower-case 't,' has felt its share of shock from these overarching trends. Ad sales at the company once known as Tribune Publishing dropped 16% in the fourth quarter as revenue for 2016 showed almost no growth compared with a year earlier.
Each of Tronc's newsrooms has endured layoffs over the past three years, whether at the Los Angeles Times, Chicago Tribune or The San Diego Union-Tribune. All three newsrooms are much smaller than they were in 2001.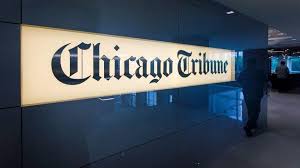 Tronc's media representative didn't reply to a request for comment on the size of the newsrooms in Los Angeles and Chicago.
Yet unlike any other U.S. newspaper company, Tronc/Tribune has been through the ringer over the past 10 years. Going back to April 2007, the company was taken private by real estate magnate Sam Zell in a transaction that added $8.4 billion in debt to Tribune's balance sheet at a time when ad sales were plummeting and the company was already carrying about $5 billion in debt.
A lousy financial structure were made worse by questionable management. Zell hired Randy Michaels, a former radio executive and disc jockey, to run the business although he had little if any experience operating a newspaper company. Employees recoiled at Zell's sexist comments and exhortations to row harder.
Less than a year after the deal closed, Tribune on Dec. 8, 2008, was forced to declare bankruptcy, the largest in the history of the American media industry. Some 4,200 people across the company lost their jobs.
Exacerbating the brain drain, Tribune had little money to invest in its newspapers and television stations — especially in digital. Newspaper companies, not only Tribune, were infamously slow to embrace digital news reporting. Wary about alienating their readers, they mostly chose to post their stories online for free so as not to scare away an audience they'd promised to advertisers.
These days, few newspapers use a paywall, though many more do so than 10 years ago. The Los Angeles Times is among them. Digital-only subscribers at Tronc grew 82% last year to 160,000 — yet that was across the entire company. Digital subscribers to The Wall Street Journal totaled 1.1 million at the end of 2016, up from 828,000 a year earlier, while New York Times Co. (NYT – Get Report) added 276,000 new digital subscribers to its flagship newspaper in the fourth quarter, its largest total since 2011, when it first began offering a digital-only subscription.
Tronc still has a long way to go.