Original Article on The Street
President Trump is capable of committing great crimes, Gerard Baker said from his vantage point as editor-in-chief of The Wall Street Journal.
"This administration is absolutely capable of really grave malfeasance," Baker, whose newspaper is owned by Rupert Murdoch's News Corp. (NWSA – Get Report) , said on Thursday, Oct. 12, at a New York event hosted by the Society of American Business Editors and Writers.
Commenting on Trump's threats this week to revoke broadcast licenses tied to Comcast Corp.'s (CMCSA – Get Report) NBC News, Baker said the statements have far-reaching implications, regardless of whether the president plans to carry through on his threat. Earlier this week, NBC News reported that in July Trump had called for a tenfold increase in nuclear arms, a proposal that apparently caught military officials by surprise. Trump attacked the report as "pure fiction made up to demean" him, suggesting that the network be shut down.
"What he said about revoking broadcast licenses is pernicious, it's obnoxious," Baker said. "He may not have the legal power to do that, and it might seem like a futile exercise, but it's damaging to trust, damaging to the institutions of democracy."
Yet if news were to emerge in the coming months that shows, for instance, that the Trump campaign knowingly colluded with the Russian government to defeat Hillary Clinton, Baker said much of the public would never believe it. Trump, he said, has effectively demonized nearly all news outlets as being personally out to get him and, by extension, his supporters. Throughout the campaign, Baker said, Trump often bashed the so-called mainstream media, portraying reporters as being faithful to a system that's not working for ordinary people.
"The danger is that the perception of the press is so hostile," he said. "If something emerges of really serious malfeasance, and the press reports on that, many, many people in this country are not going to believe it, they're just going to put it down as media bias. That is an astonishing fact, and if that is true, it is astonishingly damaging to the country."
As for his own coverage of the Trump administration, Baker acknowledged that some news observers, and some within his own newsroom, have charged that the Journal has pulled back its reporters, ceding ground to The Washington Post and The New York Times. Critics alleged the conservative politics of News Corp. chairman Rupert Murdoch and the entrenched positions of its editorial page are influencing newsroom decisions about which stories to pursue.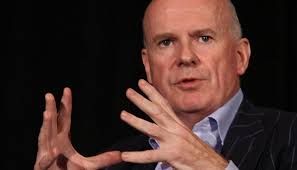 Baker deflected the criticism, countering the Journal "has done very robust reporting" about Trump, though he did add, "It's true, we have not done the reporting on the scale of some others." Yet it's the Journal's comparative discretion, Baker argued, that ultimately may afford the newspaper the weight and cachet to convince otherwise skeptical Trump supporters that evidence sufficient to impeach a president might actually be true.
"If we do even better reporting, that can actually demonstrate some terrible things that did happen," Baker said. "People are more likely to believe us than they are anyone else."
In July, the Journal wrote that U.S. intelligence agencies caught Russian officials talking about Trump associates in spring 2015, just before the real estate developer's announcement that he would pursue the Republican Party's presidential nomination. The newspaper also reported that Republican operatives sought out Russian hackers to obtain emails sent by Hillary Clinton well before she became the Democratic presidential nominee.
Alan Murray, chief content officer at Time Inc. (TIME) and a former editor of Fortune magazine, agreed with Baker, saying the media risked losing the public's trust if it overshot on attacking Trump.
"The president has launched a systematic campaign to undercut the credibility of the institutions that could damage him at some point," Murray said. "He has baited the press with this 'fake news' thing, and many of our colleagues have taken the bait and are destroying their own credibility in the process."
Yet much of the media, Murray added, has discovered only too well that attacking Trump generates readers and, in turn, the kind of internet traffic that attracts advertisers.
The declining confidence in journalists arguably has been ongoing since the 1960s, though the causes for that decline are debatable. That question aside, Trump has been able to successfully lump critical reporting with personal attacks, solidifying the loyalty of his core supporters as the media, writ large, loses its credibility with those same voters.
"We have a democracy, and democracy depends on an informed public," Murray said. "If we don't have any ability to provide some basis of factual information to the whole country, we have a serious problem. That credibility was already damaged before Donald Trump, but he consciously and skillfully mined that and made it worse. It's a bad thing for the country."